Bo Hansson: Lord of the Rings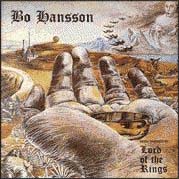 For decades, J.R.R. Tolkien's Lord of the Rings trilogy had been well loved by book readers everywhere. Now, New Zealand-born director Peter Jackson is transforming the epic on to the big screen, the first installment, The Fellowship of the Ring had already hit the theaters at the end of 2001.
In 1978, there was a rather forgettable animated version of Lord of the Rings. But before Lord of the Rings ever appeared on any type of screen, musicians were recording music inspired by Lord of the Rings, and Bo Hansson from Sweden recorded such an album in 1970.
The album was originally released in Sweden on the Silence label as Sagan Om Ringen, and all the songs bore Swedish titles. Eventually in 1972, Charisma Records, the British label that gave us Genesis, Rare Bird, Van der Graaf Generator/Peter Hammill, Lindisfarne, and even Monty Python, had released the Bo Hansson album for international distribution, this time with totally different cover artwork, the better known English title, which was Lord of the Rings, and the fact the songs now all bore English titles. Don't worry, nothing was changed musically, as this is all instrumental music. Basically the music is very mystical sounding prog rock dominated by Hammond organ and Moog synthesizer.
He got some help with the likes of Gunnar Bergsten on sax, Sten Bergman on flute, and Rune Carlsson on drums. Hansson did all the keyboard work, as well as guitar and bass. Songs, as you may guess, bear titles like "Leaving Shire", "The Old Forest/Tom Bombadil", "Lothlórien", "The Ring Goes South", "Shadowfax", and many more. None of the songs are over 4 minutes long. The music is totally different from the more typical Hollywood type orchestral fare that is found on the Peter Jackson movie.
Bo Hansson's Lord of the Rings had been frequently criticized as being "cheesy organ and synthesizer music" (which I don't think so), and not fitting in with the trilogy. Usually these come from people who like to collect Lord of the Rings-related material, but don't listen to prog rock. To me, this music fits perfect to Tolkien's trilogy. You simply have to like prog rock, or understand what music was like in the early 1970s to appreciate it.
The album has a home made production. Most of this album was recorded at Bo Hansson's home on an island outside of Stockholm. Yeah, the music does get a little repetitious, but the truly mystical atmosphere makes up for the album's shortcoming. So if you're a Tolkien fan and a prog rock fan, be sure to add this album to your collection.
Original year of release: 1970
Original Swedish title: Sagan Om Ringen
Bo Hansson: organ, Moog synthesizer, bass, guitar
Gunnar Bergsten: sax
Sten Bergman: flute
Rune Carlsson: drums
8 Responses to Bo Hansson: Lord of the Rings