Enigma: MCMXC A.D. (1990)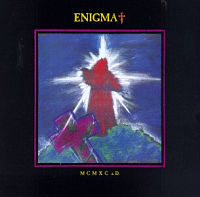 Now here's an odd album. Odd, only because it's a dance album I actually like. I generally don't go for dance music, but Enigma was that rare example of making dance music actually interesting!
Actually Enigma was less a band and more the brainchild of Romanian-born Michael Cretu. He had already released a few albums and singles under his own name since the late 1970s. MCMXC a.D., so named because MCMXC is the Roman numerals for 1990 (the album was released in Europe in December 1990, but not released in America until February 1991) was the very first Enigma album, as as far as I'm concerned, Enigma's most consistent work (I found their following albums a bit more inconsistent, even though they too had some good material).
Back in November 1990, I was watching MuchMusic (Canada's answer to MTV, which I thought was more interesting than MTV at that time, in my book) on the satellite dish (I was living in Florence, Oregon at the time) and there was this video being played on CityLimits (a show that played lots of underground/alternative/experimental/indie music) and they were airing this video to Enigma called "Sadeness". I was totally tripping. This was dance music, but that gloomy atmosphere, the Gregorian chants, and these electronic flutes really got to me. I was wondering if an Enigma album would become available in America soon, which I'm glad it did. Anyway, "Sadeness" was the hit off MCMXC a.D., but it was actually released as a single a couple months before the album came out, so it gave people an idea of the Enigma sound before they got their album finished.
If you like the sound of "Sadeness", you're bound to like the rest of this album. It's basically one long continuous play, each song is segued in to one another. The opening cut is "The Voice of Enigma", it's purely an ambient piece, with the lady speaking: "This is the voice of Enigma", this song then segues in to a three piece suite called "The Priciples of Lust", which starts off with "Sadeness". The song consists of spoken dialog in French and English. It's basically in honor of Marquis de Sade. Because of the sexual overtone placed over Gregorian chants, it's obvious that the Catholic community didn't take too well to this album. The second movement is "Find Love" before the reprise of "Sadeness". The next song, "Callas Went Away" is a more mellow number. It's just so dark and gloomy, it just leaves me speechless.
"Mea Culpa" was the other hit on the album. It starts with the sound of thunder, church bells ringing, and rain, as it turns out, it was Cretu sampling the opening of Black Sabbath's 1970 debut album. This is one of the faster numbers, and was obviously meant for the dance floor. But not too many dance numbers are as gloomy sounding as this, so if you only like upbeat dance music you might find on those Party Mix CD compilations, you might want to pass on this.
The next song is "The Voice and the Snake". Actually all this is, is a sample from a prog rock album from Aphrodite's Child called 666 (1972) (Aphrodite's Child was the band Vangelis was in), in this case, "Seven Bowls", but with the added-on spooky synthesizers from, I presume Cretu himself.
The final song is "Back to the Rivers of Belief". It's a three piece suite, once again, and it starts off with "Way to Eternity". This movement begins with some knocking sounds, and the theme song to the Spielberg movie Close Encounters of the Third Kind played on a modern digital synthesizer (after all, it's a calm piece, and trying to actually sample from the movie would not work, as it would be too loud). The second movement, "Hallelujah" starts off with the dance beat with voices whispering "turn off the light" and so on. The last movement is "The Rivers of Belief". This is the only song Michael Cretu sang on (which unfortunately gave him bad ideas, as he started singing much more on subsequent Enigma albums, and I'm just not much for his singing). Luckily, it's so in the background that I'm not bothered by his singing (unlike say, 1996's Le Roi Est Mort, Vive le Roi!). Most of the rest of the vocals on the album consists of spoken dialog in English and French.
My only complaint I have of MCMXC is the beat lacks variety, but the wonderful, gloomy, otherworldly atmosphere totally makes up for its shortcomings. Sure I don't expect everyone to like Enigma, but in my opinion, this is by far their best album, and if you fancy the idea of gloomy, otherworldly dance music, you might like this album.
12 Responses to Enigma: MCMXC A.D. (1990)