Frank Zappa & The Mothers: Fillmore East, June 1971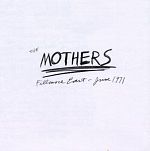 By 1971, Frank Zappa had formed a new edition of the Mothers of Invention (now simply called The Mothers, as Zappa wanted to all along). Already several albums with the original Mothers of Invention had surfaced from 1966 to 1970, plus he already released a couple of albums simply under his own name, Hot Rats (1969) and Chunga's Revenge (1970).
For the the new Mothers, Zappa decided to keep Ian Underwood and Don Preston from the old Mothers and now include Howard Kaylan and Mark Volman of the Turtles (aka Flo & Eddie), bassist Jim Pons, and English-born session drummer Aynsley Dunbar (who played with the likes of David Bowie, Journey and Jefferson Starship). The new lineup decided to emphasize humor, especially the juvenile bathroom humor side. Because of that, rock critics began to turn their back on Zappa, as well as fans of the old Mothers.
Fillmore East, June 1971, no explanation needed about where and when this album was recorded, was the final performance at the Fillmore East before it shut down. John Lennon and Yoko Ono happened to perform there that night, and their performance can be found on their Sometime in New York City album. Anyway, despite the rather crude content of the Mother's Fillmore East album, it isn't all that bad. Sure it isn't as good as what Zappa did between Freak Out and Weasels Ripped my Flesh, of course, but it has its amusing values.
The album is basically about some groupies who demand that the band plays their hit single "with a bullet". And while at it, you get treated with such crude songs as "Bwana Dik", in which the lyrics literally goes, "My dick is a monster" (what was even sillier was whoever it was doing the singing did a great job imitating Jim Morrison). When you hear of rap groups getting in trouble with dirtly lyrics at the beginning of the 1990s, such as 2 Live Crew, it's really amazing how Zappa was able to get away with such content, and have the album released (remember, this was 1971, way before those "Parental Advisory: Explicit Lyrics" warnings ever appeared on albums). "Do You Like My New Car" features dialog like, "What say we hop in the trunk of your Gremlin and get our rocks off". What's silly about that is the car in question, the AMC Gremlin has no trunk, it's very small, so making out in the back of a Gremlin, is frankly, not very romantic.
The album starts off with "Little House I Used to Live In", which is all instrumental. This cut originally appeared on Burnt Weeny Sandwich at over 22 minutes. This version of course is cut way down, and isn't as good as the original. "Mud Shark" apparently involves a real incident that happened at the Edgewater Inn in Seattle with Led Zeppelin throwing a baby octopus.
The album also features a totally killer instrumental "Willie the Pimp" that originally appeared on Hot Rats. I understand the CD version of the Fillmore East album features only the first part of "Willie the Pimp". I have the LP, and believe me, if you get to hear the whole thing, it's amazing, the second half is simply intense.
"Lonesome Electric Turkey" is another instrumental piece, but what is interesting, is this is the first time a synthesizer ever appears on a Zappa album. It's Don Preston here playing on his Mini Moog, and is one of the earliest recordings I know of to use such a synthesizer (most recordings prior to this that used synthesizers used one of those large modular Moogs, like what Emerson, Lake & Palmer used).
Back to the song "Do You Like My New Car", the song involved some groupies demanding that they play their hit single "with a bullet". As they keep pesturing the band, they break in and play "Happy Together". That should come as no surprise why Zappa and the Mothers should play this song, after all, it was a big hit for the Turtles, in which Howard Kaylan and Mark Volman were in. So while I don't consider this one of Zappa's best, it's still worth having, if you don't mind the crude humor.
8 Responses to Frank Zappa & The Mothers: Fillmore East, June 1971