Frank Zappa & the Mothers of Invention: Freak Out! (1966)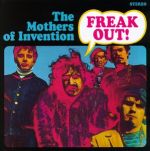 Since Frank Zappa went through so many different musical phases with so many different bands, and he was quite outspoken on just about any subject given, not everyone took too kindly to his music (that is, both rock critics and rock fans). But you gotta give credit, he was quite prolific and eclectic. His musical styles go from R&B, doo-wop, jazz, classical (usually 20th century classical), orchestral, prog rock, big band, and so much more.
Freak Out!, released in 1966 was the very first album by him, with the original Mothers of Invention that included Zappa, bassist Roy Estrada, drummer Jimmy Carl Black, rhythm guitarist Elliot Ingber, and vocalist Ray Collins. What's also odd was this debut album was originally released as a double album set (I can't think of too many bands in which their debut was a 2-LP set, aside from Chicago). The first disc consists of short songs, my favorites include "Hungry Freaks, Daddy", "I Ain't Got No Heart", "Motherly Love", "Go Cry On Somebody Else's Shoulders" and "You're Probably Wondering Why I'm Here". Pretty much the music on this first disc is as you expect from 1966.
"Who Are the Brain Police" for some odd reason, reminds me of a Nine Inch Nails song, "Head Like a Hole", even though that song did not exist until 1989. "Hungry Freaks, Daddy" features lyrics about how the freaks are taking over towns. "Go Cry On Somebody Else's Shoulders" is in that '50s doo-wop style, but I really get a kick off the lyrics, especially the part that goes, "You cheated me baby/and told some dirty lies about me/Fooled around with all those other guys/That's why I had to get my khakis pressed". Not your typical love song you expect from '50s doo-wop, to say the least.
"Motherly Love" seems to be a song about groupies (something Zappa would revisit later, such as the Fillmore East, June 1971 album). But these songs seem pretty normal and straightforward (but strange by 1966 standards) and nothing will prepare you for the second disc. The disc starts with "Trouble Every Day", which shows just how pissed off Zappa and the Mothers were towards the nonsense and the bullshit of the Watts riots in South Central Los Angeles in 1965. If you want a song in which the musicians are speaking their minds about whatever it is that's not pleasing them, this is that perfect song.
After that, all the music starts turning in to the bizarre. Here, the band starts exploring the style of experimental neo-classical music that has more in common with the likes of Karlheinz Stockhausen or John Cage than of R&B, rock and roll, and doo-wop. "Help I'm a Rock" is that example. "It Can't Happen Here" features a bunch of funny sounding voices saying, "Who could imagine that they would freak out in the suburbs?" (as well as other places of the country people the general population think of as conservative bastions, like Kansas).
Zappa and the Mothers seem to be mocking the conservative suburban lifestyle (I get a kick off the voices that go, "You get your TV dinner and you cook it up", making fun of the people living in denial). The album ends with the side-length "The Return of the Son of Monster Magnet", and the Suzy Creamcheese character makes her very first appearance (she would appear on several more albums up to Uncle Meat). Again, it's mainly strange electronic effects and funny vocals.
If anything, the second disc of Freak Out! is not unlike the second disc of Can's Tago Mago (particularly "Peking O"). I am sure Freak Out! did have an influence on Can. After this album came out, the Mothers already started to experience lineup changes. Elliot Ingber was the first to go, he would later be a member of Fraternity of Man (who did "Don't Bogart That Joint" featured on Easy Rider). Future members of the first edition of the Mothers of Invention (which lasted until 1969) included Don Preston, Bunk Gardner, Art Tripp, Bill Mundi, Ian Underwood, Lowell George, Don "Sugarcane" Harris and more.
Although the sound quality of Freak Out! isn't the best (this is a 1966 recording, after all), and it's perhaps the most dated of any Zappa album, it's still quite a worthwhile album, and if you're a Zappa fan, then you owe it to yourself to get this album.
– Frank Zappa: guitar, vocals
– Roy Estrada: bass, vocals
– Ray Collins: vocals
– Elliot Ingber: rhythm guitar
– Jimmy Carl Black: drums
7 Responses to Frank Zappa & the Mothers of Invention: Freak Out! (1966)