Led Zeppelin: Houses Of The Holy (1973) by: sky_pink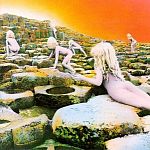 Led Zeppelin are mostly known for hard- and blues-rock, which is quite interesting, as they have loads of excellent material that just cannot be squeezed into either of these categories. Houses Of The Holy is a fine example, indeed, as it is an album of exploration of different musical styles that are bound together by what I would call delicate, almost imperceptible feeling of surrealism.
Houses Of The Holy was a kind of a breaking point for Zeppelin – from this album on their music became more complicated, maybe a bit more distant and, some would say, more mature. Therefore Houses Of The Holy is a very stylistically diverse album, a mixture of Zep's early passion and relative simplicity, and the mellowness and sophistication that can be found on their later albums.
The most noticeable change in Zeppelin's music that came with this particular album was probably Led Zep embracing prog rock (finally, according to the trends of the time). With that came some things I would describe as unusual, at least in Zep's music – things like the loss of some kind of a centre of a song, whether for better or for worse. The songs here just start 'whenever' and end 'whenever'. The structure of songs is nowhere near being well thought-out, but rather depends on the spur of the moment.
Plant's singing is also different on this record – much less wailing than on earlier albums. He is more laid-back and open for experiments, but unfortunately this means some of the originality is also gone. However, there are some new-found qualities to his voice – one couldn't possibly expect to find the CALM and pensive 'The Rain Song' after listening to just the first four albums.
When listening to this album I once again feel the urge to write a hymn to the fascinating way Page and Plant (as well as Jones and Bonham, of course) not just play each his own istrument, but rather work together, which most bands seem unable to do.
What robs this album of shining five stars is the extraordinary fact that although I love most of the songs and like all the others, although the songs are quite different and although they do fit together, the album unexplainably seems a bit boring at times. I can't think of a possible reason for that, except for maybe the repetitions in almost all of the songs, but it is there.
Houses Of The Holy is probably one of the best albums Led Zeppelin ever made. They themselves must have thought so too – I mean, hey, they even gave it a title!

Best songs: More or less all of them, no particular honorable mentions (yes, not even to 'No Quarter', which is usually put on a mile-high pedestal).