Monthly Archives:
February 2017
There is no better place to love your brothers and sisters and mother Earth than in Black Rock City. The world's largest Leave No Trace community is friendly and kind and welcoming to all walks of life. No one will ever turn you away when you need to take a load off in the shade or get out of the dust. A huge portion of the population carry litter bags to help keep the city clean and they do it while looking fabulous and smiling. All citizens of Black Rock City are participants, there are no tourists or spectators. The cities entire lifeline is volunteerism and gifting.
Views: 6278
Hi Fellow Hipsters,
This is Virgin again of Ocean Beach-San Diego, CA, formerly of Santa Cruz, Seattle, San Francisco, Los Angeles and the Central California Coast (see my postings for these places). As a San Diegan for the last four years I can tell you that Baja California is magical and one of the best-kept secrets of hippie-oriented San Diegans. This is a brief list of some of my personal hippie-friendly highlights:
Tijuana: For Mexican spiritual flavor, check out my Ocean Beach-San Diego posting for places to check on Day of the Dead and the Feast of Our Lady of Guadalupe.
There's a groovy cafe that's my FAVORITE secret spot in TJ so I'm not going to announce details. If you want real homegrown Mexican bohemian flavor, do some poking around to find this cafe on the beach that welcomes jamming musicians all evening on Sundays. Trust me it'll be worth it.
Rosarito: Off the coast is awesome scuba diving at the Islas Coronadas, where you'll also find pelican and sea lion rookeries. You can access these islands from dive outfits at Mission Beach, San Diego.
During the summer on the night of a full moon, find your way to the beach in the north part of Rosarito for "lunadas," which are small all-night parties by chill young Tijuanenses.
La Fonda: Do a Mapquest to find this little outpost between Rosarito and Ensenada that's popular with Gringo surfers for its consistently good, uncrowded, longboard-friendly waves.
Guadalupe Valley: Just before you get down to Ensenada, turn off to drive east on Highway 3 to get to this area, which is Mexico's largest wine-producing area. I won't give the details of this away, but if you do some poking around near the L.A. Cetto winery you can find your way to a very chill Kumeyaay Indian village called San Antonio Necua and nearby waterfalls and hot springs (not recommended during rainy months or for folks who don't have a four-wheel drive).
Erendira: Between Santo Tomas and San Vicente on Highway 1 there'll be an off-ramp at Km 78 for a potholed 12-mile road to the coast. In this little non-descript town is a very hippie-friendly hostel called Coyote Cal's. Check out their website coyotecals.com. But be forewarned about a very bitter controlfreak ex-hippie who runs the place, and do your best to avoid this dude. Despite his bad vibes the cliente is generally cool.
Bahia de Los Angeles (a.k.a. "L.A. Bay"): Try to ignore the late-night loud Gringo sportfishing drunks and Mexican rednecks with their early morning ATVs and loud late-night Norteno music; this place is awesome for natural scenery: a spectacular sea water inlet replete with great shallow-water snorkeling, early morning feeding dolphins, huge marine mammals, and surrounded by stark desert landscapes. If you come here in mid-October you can swim with and touch harmless whale sharks, which max out at 55 feet. You can also land at nearby little islands where you can snorkel with playful sea lions and harbor seals. Totally awesome.
Laguna Manuela: This is a tiny unmarked fishing and lobstering hamlet just a few miles north of Guerrero Negro. In good conscience I can't give you specific advice about this (which concerns U.S. laws that apply to Americans everywhere in the world), but if you happen to be in Laguna Manuela from early January to early February I strongly recommend you rent the services of a fisherman to take you out in the water to check out amazing specimens of HUGE marine creatures traveling through the bay this time of the year. Believe me you won't regret it.
Enjoy! Or should I say, !Que lo pases bien!
Peace, Virgin
getsomebutu@hotmail.com
Views: 7502
Hi Fellow Hipsters,
This is Virgin of Ocean Beach, CA, formerly of SF, LA, Santa Cruz and Seattle (see my postings for these cities). If you're new to California – welcome to my native state! One thing I totally recommend for the nature-loving hippie is the coastal drive between Santa Barbara and the Monterey Bay. I know this turf like the back of my hand, having hitchhiked this route many times and having picked up even more hitchhikers. Because there's WAY too much to talk about in terms of highlights, please forgive a quick-and-dirty summary of the treasures I know as a native to these parts. I'll take a south-to-north approach, from Santa Barbara to the Monterey Bay.
Arroyo Burro Beach – within Santa Barbara city limits, check out feeding dolphins here just after sunrise. Very cool.
Tajiguas Beach – unmarked surf spot about 15 miles north of Santa Barbara, on Hwy 101.
San Onofre Beach – nude beach between Refugio and Gaviota Beaches, on Hwy 101.
Gaviota hot springs – lukewarm but free and undeveloped hot springs right at the Lompoc/VAFB turnoff, on Hwy 101.
Jalama Beach – surf spot about 6 miles south of Lompoc, on PCH 1.
Guadalupe – along PCH 1, hike out to the awesome Guadalupe sand dunes via Oso Flaco Lake, which itself is an awesome wildlife viewing area at certain times of the year. The Far Western Tavern in town is a cool place to get a drink.
Nipomo – If you want a super-cheap, hippie-friendly but no-bullshit hostel to crash at, near Guadalupe, check out Bill's Farm Hostel.
Halcyon – between PCH 1 and Hwy 101, this is a tiny artist community in a very politically conservative area, just south of Arroyo Grande, with a good-vibe general store.
Pismo Beach – on PCH 1, then on Hwy 101: I can't in good conscience tell you a technically illegal way to access this, but find your way to the "Dinosaur Caves" during low tide; they're very groovy especially at sunset. And near the beach border of Pismo Beach and Grover City twice a year, you can marvel to the incredible monarch butterfly migration. In nearby Shell Beach just a couple miles north of Pismo there are amazing views of colonies of wild birds on small islands just offshore.
Morro Bay – If you drive off Hwy 101 toward Morro Bay, across the road from a golf course you'll notice an unmarked uphill road. This leads to Pirate's Cove, a nude beach that has an awesome view of the Pismo Beach-Guadalupe area. There are two natural hot spring resorts near here – one cheap and one expensive, depending on what you want. If you like SUPER close encounters with wildlife, you can get close to California sea lions near the end of the Morro Bay pier.
Piedras Negras – on PCH 1, just a few miles away from the horrifying Hearst Castle monstrosity, in mid-January you can witness some of the most incredible wildlife viewing I've ever seen in the entire world (and I've been on five continents, including backpacking in Alaska, snorkeling and diving in the tropics in the Atlantic and Pacific, and doing safaris in East Africa): a HUGE colony of elephant seals fighting, mating and giving birth. It's totally free, and just a few feet away from the highway.
Salmon Creek – on PCH 1, a few miles north of the "Ragged Point" tourist rest stop, which is just a little bit north of Piedras Negras: look out for the tiny sign to this at one of the many hairpin turns along the highway. It'll be worth it. The water's freezing but the scene is gorgeous, particularly in non-summer months (due to water flow). Nudity OK!
The "Big Sur" drive in general: Basically on PCH 1 you'll be so blown away by infinite spectacular vistas between Ragged Point and Carmel, it's not even worth my writing about it. You'll need to do your own homework regarding serious meditation retreats and isolated camping beaches along this route. But here are a few major touristy suggestions for first-time visitors: the Lucia Lodge (if you have the cash); the Esalen hot springs (spectacular cliffside natural hot springs with a view of the ocean, only open 1-3 AM to the public, best on full moons); the relatively affordable upstairs cafe section of the Nepenthe Restaurant (with an amazing view, especially at sunrise); and if you're not bugged out at paying money to drive through the neighborhood of America's ultra-rich, the "17-Mile-Drive" in Carmel/Monterey is simply unbelievable in terms of natural beauty.
North of Monterey, feel free to check out my posting on Santa Cruz, which is one of my favorite urban environments anywhere. And north of there, check out my posting on San Francisco, which is hands-down my favorite big city on earth.
Hope you enjoy this hippie-oriented tour of my native turf! You definitely don't need pharmaceuticals to be blown away by all the natural beauty, but as an experienced mind-expansion veteran I can tell you it doesn't hurt!
Peace,
Virgin (getsomebutu@hotmail.com)
Views: 8548
Viroqua is 30 minutes SE of La Crosse, approximately 3.5 hours from Milwaukee and the Twin Cities, 4 hours from NW Chicagoland; just 20 minutes to the Mississippi River.
Three Chimney's Rock Formation is just outside of Viroqua.  It highlights the anchient seafloor mountain range that makes up the topography of the area.
As a fascinating aside, the entire Valley was slated to be flooded as part of a huge Army Corps of Engineers damn project.  For several reasons the project was halted in 1973… now, we can enjoy the land and its spirit everyday, just as it has been for thousands of years. A large part of the Valley is permanently protected in the 8,500 acre Kickapoo Valley Reserve.
There's much to do in Viroqua, many hidden shops and hippie hang outs but the most impressive feature of Viroqua is the alternative high school.
The old, rich soil has supported decades of farming, and has been particularly suited to organic farming.  The surrounding area has become one of the most successful organic farming regions in the entire world!  In fact Organic Valley / CROPP organic farming coop, located 20 minutes from Viroqua, has grown into a multi-million dollar international company! 
Views: 9694
Because Spain don't be only sun, beach and beautiful girls I try to guide you for one of the most impressive monuments of the spanish culture: the Santiago's Way; but not only exist monuments, as well it's a very important part of spanish history. I live in a city call Astorga, placed in middle of the Way, and every morning I can see from my room's window some pilgrims with their knapsacks to back. Are thousands the pilgrims of many nationalities that cross it throughout the whole year, especially between may and september. They make the Way well walking, in bike or a length walking and other length in another transport vehicle. When they're very tired or well for to finish any long stage, they can take a bus between city and city.
The Way begins the Pyrenees and comes from France. It crosses all the north of the Iberian Peninsula, of East on West. It's a pilgrimages route arisen in the Middle Ages acquaintance too like "Route Jacobea". The Way's objective is to reach Santiago de Compostela, in the La Coruña´s province, where supposedly found the relics of the Apostle Santiago. According to the legend, the way was originated at the beginning of the IXth century and it is placed on a former Roman causeway. Coinciding with the most splendour age to "Route Jacobea" many lodgings arise along the Way where to give cover to the pilgrims. Nowadays the price of the lodgings is more or less 3 Euros, food and bed included, depending on the place. Former two principal routes existed from France: both principal routes go out from Somport passing then for Jaca, or from Roncesvalles and Pamplona. It are unified in Puente la Reina and go towards Estella, Logroño, Nájera and Santo Domingo de la Calzada. Immediately it continues for Burgos, Castrojeriz, Frómista, Carrión, Sahagún, León, Astorga, Ponferrada and Villafranca. Ultimately it passes for Cebrero, Portomarín, Triascatela and Palas, to conclude in Santiago de Compostela.
The people who begins the Way they don´t chase only religious or mystical aims, but also cultural aims. It's a way of initiation framed between the biggest initiations ways of the mankind's history. It's hard to cross it; long treks under the burning sun, hunger, cold nights … but anyhow the people continue doing it. Mystery! Mysticism, faith, personal overcoming? Come, come to discover it, kids. It's the only and incomparable experience.
Views: 6033
San Pedro is apparently the remnants of what was once a port nestled in the cliffs of Cabo de Gata, Andalucia. It was discovered and is now the home to several permanent residents and many, many other travellers from all over Europe and the world, who may pass by.
It is completely unreachable by vehicle – only accessible via a 1hr walk (scenic is an understatement) along the cliffs from the nearest village, las Negras.
Its a piece of paradise and a place where nature leaves you awed and humbled, by day and by night. Its also a place where, if you come with the right intentions, strangers will give you what you need. San Pedro welcomes those who like to leave without a trace.
Views: 14171

Fire Dancer Pirates Bar Koh Phangan
I'm in the middle of a HUGE party here on Koh Phangan, for the Thai Songkran Festival. The house music right outside this Internet cafe is pounding the beat, and everyone's dancing like crazy. I've been powdered, drenched, powdered again & drenched again, so many times it's impossible to count! The supersoakers are out in force, and others are just throwing buckets of water, sometimes iced on everyone. Everyone is soaking everyone else, and Everyone is smiling like they're having a great time (and we are indeed!)The Thais are going nuts. This is obviously a big thing for them. And today the sun is shining without a cloud in the sky. I haven't a clue what the temperature is because for the last 3 hours I've been completely soaked, feeling nice & cool.
I'm sorry but I'm not taking pix of this wonderful event. 🙁 Can't risk the camera (which by now would be history!). I've refilled my supersoaker at least 50 times, and I've got a nice blister coming on my trigger finger.
Too bad everyday can't be like this one! Tonight there's a big party at the Pirates Bar, with a bunch of DJs with their setups in little nooks in the sheer cliff. I'll post some pix of the bar soon. It's right at the end of the beach I'm on, which is one minute away from my bungalow. How convenient.
I'm not jonesin' anymore! Yippee! Sweet Thai medicine for my insomnia. 🙂
So the story about this Thai New Year celebration is that they're supposedly cleansing themselves of all the shit from the last year, so they can start the new year fresh. It's new years cause today is their Equinox, with the sun directly overhead. It's the hottest month of the year here, so a great excuse to get soaking wet!

Koh Phangan Beach Scene
Views: 12818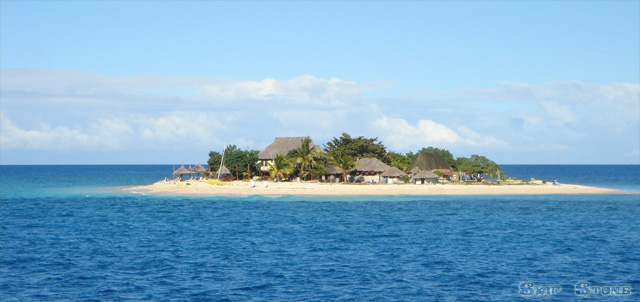 South Sea Island Fiji
I've been wanting to visit Fiji ever since 1982 when my plane stopped there to refuel on my way to Auckland, New Zealand. I wished then I could hop off and check it out, but that wasn't allowed then.
Most ex-pats like me sooner or later need to do a visa run. That is when your visa expires, you need to leave the country you're in and go somewhere else, usually for a very short time. Then when you show up at the border again, they renew your visa for another stay.
So when it was time for my first visa run from Australia, I'm so glad I picked Fiji. It was cheap (A$500 rt) to get there from Brisbane, and it's a relatively cheap destination to visit.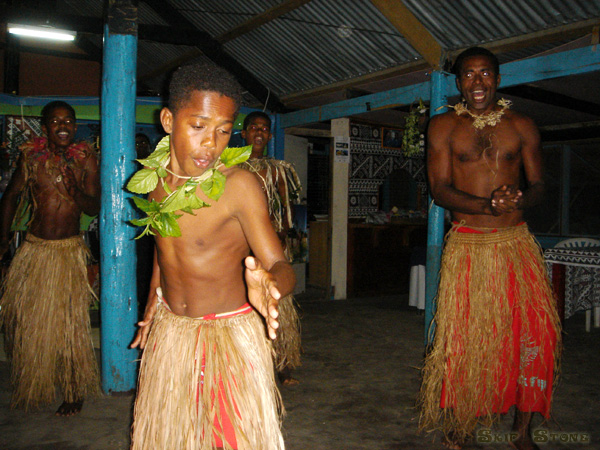 Bula Dance – The Fijian Welcome
Whether you're a backpacker or a jetsetter, Fiji is your kinda place. It's friendly, romantic and fun! Watersports are very popular as Fiji has some of the cleanest seawater on the planet. Coral reefs surround most Fiji islands and the water is comfortable, even in winter.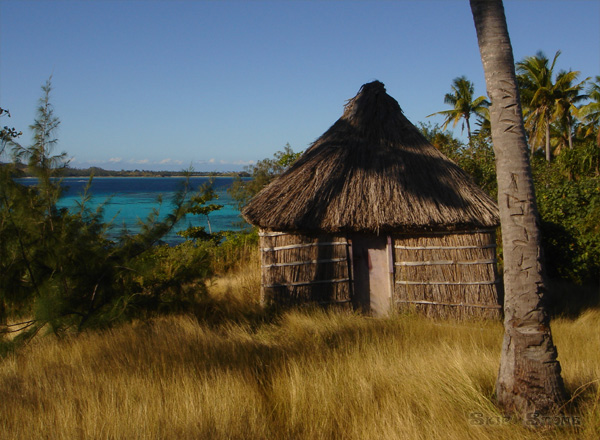 Fiji Bure with a View
Backpackers can stay in dorms or double bures which are old style Fiji huts made from local materials. Most places include three meals a day in the price, which runs from F$50-$75 a nite per person. (US$1 = F$1.70). For those with a bigger budget, you can stay in fancier resorts, even 5 star ones.
What makes these resorts so much fun is that you cannot escape socializing with the other travelers. You see them in the dorms, on the beach and of course at meal times. Then at night in the bars the scene ranges from very mellow to big party time! You get to meet travelers from Europe, NZ, the US, South America & of course Australia.
The Fijians ensure everyone is cared for and happy. The food ranges from good to excellent, although if you're used to American style portions, you might be disappointed because they don't usually offer second helpings in the cheaper places. The more pricey places like to do buffets where you can stuff yourself.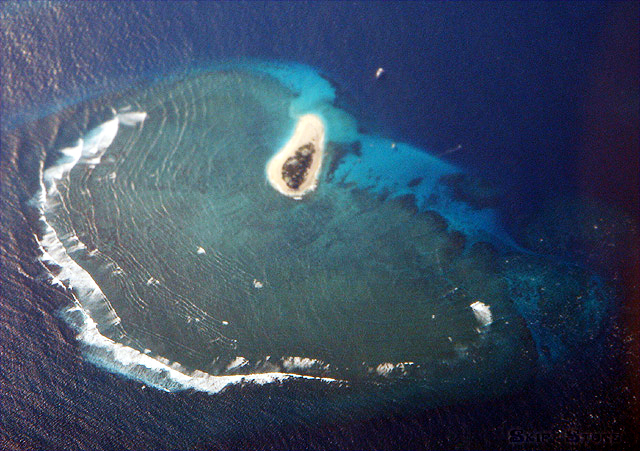 Fiji consists of lots of small islands like this one, as well as much larger islands
Most travelers book a package deal to the outer islands especially the Yasawas, where I went. You can choose from 2 to 12 nites, with everything included, island transfers on a huge fast catamaran, accomodation and meals. There are so many options, it really hard to choose which islands to go to and where to stay.
On most islands you can also book a partial day trip to a good snorkeling/diving area, a traditional Fijian village, kayaking, a guided island walk or other activities.
The beaches are superb, but swimming is often dependent upon the tides as many lagoons are very shallow.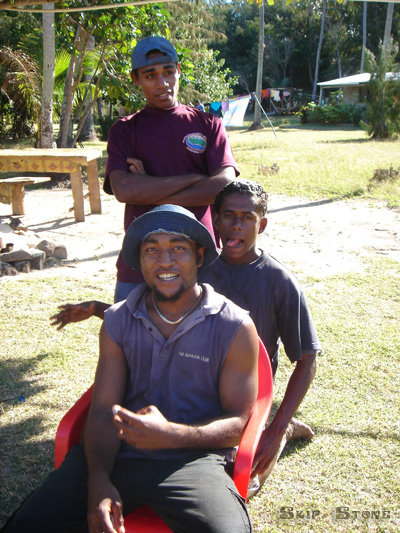 The locals, once fierce warriors, are now very friendly!
A cool Fijian custom is the Kava ceremony. This is where you can meet with the Fijians in the evening and drink their famous narcotic beverage. It's not very strong, and it is usually served in a coconut shell. If you're lucky the village chief will attend and you'll get to see the locals on their best behavior (at least until the kava kicks in). It's a challenge to keep up with Fijians as they can drink 20-40 bowls a nite.
Of course there are other Fiji traditions for you to enjoy.
I was thinking I was going to have to go cold turkey from the ganja when I went to Fiji. Little did I know that the Fijians love marijuana and grow tons of it! It's cheap and pretty good smoke, although some people (like taxi drivers) will try to rip you off. You should not have to pay more than F$30 to get a few long stems with buds wrapped in tin foil, that when separated amount to around half an ounce. To get the best deal you can try visiting the growers in the Fiji highlands. If you bring some smoke out with you to the islands you'll make lots of Fijian friends as it's difficult for them to get it at times.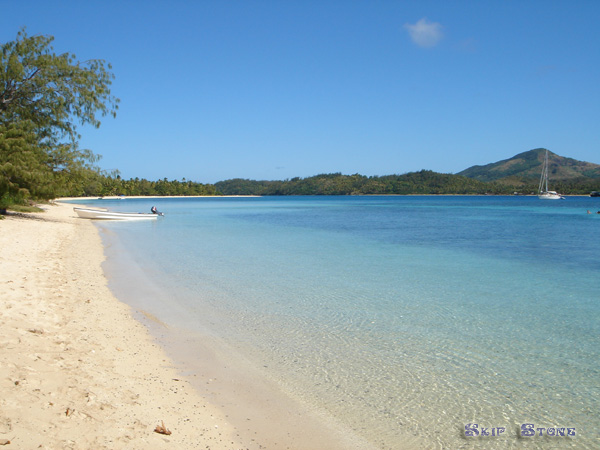 The Blue Lagoon – Sorry didn't see Brooke Shields
My favorite places were the incredible Blue Lagoon (yes, where they filmed the movie!) and Kuata island. The Coral Coast, on the main island of Viti Levu is also a great place to hang out. You can also take a side trip to the island where they filmed Castaway with Tom Hanks.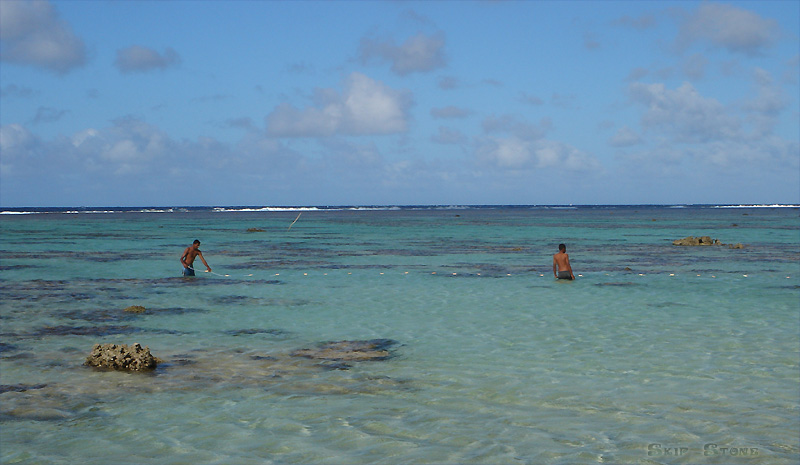 Net Fishing along the Coral Coast of Viti Levu – Self Sufficiency made easy!
The Fijian islands are sooo beautiful! The climate is superb and the people are very friendly. I was really impressed with how many Fijians are still living the old way, off the land and sea, without much money at all. Some of the villages on the outer islands are very isolated with only a two-way radio for communication. Indeed there is no Internet in the Yasawa islands, so it's a great escape for people like me who never seem to be able to get away from the WWW.
So if you're in the mood for an exotic tropical holiday or passing thru the South Pacific, Fiji is one stop you will love and remember for the rest of your life!
For more Fiji photos, visit the new Fiji Gallery.
Views: 20015

Nimbin Hemp Bar and Hemp Info Center
I'm here in Nimbin and I'll be reviewing the MardiGrass Festival for our sites. They're expecting 10,000 people to decend upon this tiny town tomorrow in the countryside surrounded by rainforest.
Yesterday I got to walk thru some of that rainforest on the side of an ancient volcano. Awesome.
The town is gearing up for the annual onslaught which highlights cannabis reform. It seems everyone in this town is passionately activist regarding that subject, and this is definite one cool place to hang out. I hear they call this place Amsterdam on Steroids in the middle of nowhere (not sure about the steroid thing). I'd say it's a cross between woodstock and Amsterdam, or it will be this weekend.
There's going to be a big parade thru town on Sunday. I expect to be there, but I don't even have my accomodation sorted yet. Camping out is the order of the day anyway. So I got to go to get some camping gear, now.

Beautiful Nimbin Area
Views: 15323
the Alpujarra is a series of beautiful white-washed Andalucian-moorish villages high up in the mountains, producing loads of crafts like ceramics, rugs and strange little herbal tinctures and liquers. There's a magical mix of influences in this area – the Arab touch from the previous Moorish settlement, a Buddhist monastery and retreat near Trevelez, open to visitors, a Mongolian gentleman selling yurts on the roadside…and near the village of Orgiva is a tipi community in a hidden valley, stop-off point for many new age travellers and home to many a full moon gathering. Alternative spirits are drawn to this area because of the beautiful mountains, valleys and springs, and the rich history.
I have some photos from la Alpujarra at the following site:
https://community.webshots.com/user/joannahruby
Views: 45361